A Few Common Questions About Window Tint
A very nice customer was sitting and talking with me while I was applying window film to his car today. As he sat in the sun outside of my garage he had several good questions for me while I applied the film. This gave me an idea for a blog entry here to kind of go over, in general, the most common inquiries I get about window tinting here in beautiful Arizona.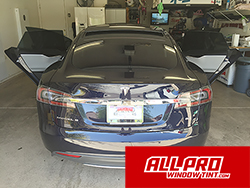 When folks stay with their vehicle and watch how the process is done, I almost always go to work on the back glass first, while laying out window film on the back glass the inevitable first question I get is "I thought the film went on the inside?" Well it does indeed, however there is a bit of a process to prepare window tint for installation, one of which is heat shrinking the film to the curvature of the glass and then cutting a pattern to fit. This is all done on the outside of the vehicle – with upmost care on my part – so as not to lean against the vehicle risking paint damage, or using to much pressure on my blade and scratching the glass, or the wrong type of blade for that matter. Heating the film properly and the entire install process has just become second nature to me, so mostly what I am concentrating on at this point (12 years in) is being careful with the vehicle.
Some people ask "What the heck are you spraying all over my car?" – Baby shampoo and water, smells good doesn't it? The adhesive is manufactured into the window film itself, it is basically just a big cumbersome sticker and the slip solution allows a smooth installation. Some people think it is pretty cool that a skilled window tinter can handle window film without creasing or damaging the material, ultimately installing the window film onto glass as cleanly as possible. I hear the comments from time to time "If I tried that, that piece of expensive window tint would be destroyed". Ha-ha well I destroyed a lot of the stuff myself when I first started, so It makes it all worthwhile to me when I am finished and a new customer declares that I have just installed the window film to their liking and that the car looks so much better too!
Window tint does indeed enhance any vehicles looks, I believe that is the reason every car commercial I can think of displays their vehicles with tinted windows, it just looks cooler.
Another common question is the choice of shades, yes there are legal limits and they vary by State – for example Arizona legal limit for the front driver and passenger windows is 33% light transmission. Any shade is allowed for the rear windows but I always recommend to maintain visibility as much as possible. The main benefit to the newest technology for auto window films is the ability to block as much heat or more than darker films and yet maintain good visibility, For vehicles this is where Nanotech window tint films and Ceramic window tint films come into play. A high performance metal window tint film is an excellent choice for high heat rejection window films in Phoenix Arizona, but the newer technology films like Suntek Carbon XP are hard to beat, especially when you are choosing a lighter film.
For Residential and Commercial window tinting in Phoenix Arizona the best films for rejecting as much heat as possible yet allowing as much natural light in are either Ceramic window films, or Spectrally Selective window films. Traditional reflective metal films will still be the highest heat rejection window films for residential and commercial application however, reflecting the direct sun will always provide the highest total solar heat rejection or TSER.
Which brings me to another common question, which film is the best? Unfortunately this one is nearly impossible for me to answer as I have not personally tried and tested every film on the market. The truth is in my opinion – a lot of them could be contenders as several of the top manufacturers seem to make very similar products, even cross manufacturing amongst each other and one large corporation even owns several brands under one name.
What I do know is what I look for in a film and what I would use to window tint my personal vehicles, or apply window film in my own home. A high end window film, preferably from a USA manufacturer – with good selection, good track record, and most importantly to me good customer service. Fortunately since I have chosen to use only top of the line window film offerings from reputable manufacturers, I have yet to have a film warranty issue and this is since 2004. Window film lasting that long in our Arizona climate to me answers the question about how good the films I have chosen to use over the years really are, and that is why I continue to choose a select few products out of the many available, and stay with the companies that treat me (and therefore my customers) right and long-term.
I'm getting a bit long winded here so I will wrap this up with my favorite frequently asked question, "When can you fit me in your schedule again?"
Ha-ha – Well if you are reading this, thanks for taking the time, and always feel free to ask us any questions you may be curious about window film.